Vintage Selection 29
"Vintage Selection. Let's dance!"
Featuring clothing, design objects and accessories that have made their mark on fashion culture, VINTAGE SELECTION returns to the Stazione Leopolda from Wednesday 25 to Sunday 29 January. With its unique atmosphere, Vintage Selection is the fair-cum-creative/stylistic laboratory that offers a place for the big names in international fashion to meet with their buyers and fashion designers.
VINTAGE SELECTION – which at the last winter edition welcomed over 13,500 visitors also from Germany, USA and Japan – has earned itself a special role among the Italian and European fairs devoted to vintage fashion, design and culture. The factors which have contributed to its success are the scouting activities and selection of the exhibition proposals as well as the unique synergy with Pitti Filati, the key international event featuring yarns for the knitting industry organized by Pitti Immagine at the Fortezza da Basso (25-27 January).
And in order to make this relationship even closer, Vintage Passenger will be staged inside the Fortezza da Basso: inspired by the theme of the research area, travel, the exhibition – directed by Angelo Figus, the art director of Pitti Filati's Spazio Ricerca – will shine the spotlight on a selection of the collections showcased in Vintage Selection.
The theme of Vintage Selection n. 29 is "Vintage Selection. Let's dance!" dedicated to Disco Dance which represented an important season in Eighties music and fashion.
This motif is also connected to "Pitti Dance Off", the theme of the Pitti Immagine winter fairs, and linked to the new layout of the Stazione Leopolda. Also inspired by this is "Disco Parade", the exhibition - installation which – from 10 a.m. to 9 p.m. for the duration of the Fair - will showcase discotheque clothing from the '80s and '90s with the help of 20 surprising outfits.
As always Vintage Selection will also feature the Lounge Area which, on 25 and 26 January, during happy hour, will be animated by a magnificent medley of choreographies based on '80s DJ sets, performed by the "Le Giuladies" dance group of the Tuballoswing cultural association.
Radio Toscana is confirmed as the fair's media partner.
In the leisure area the fair's bar/restaurant will be managed by Tuscan Excelsia, one of the top caterers in the Florence area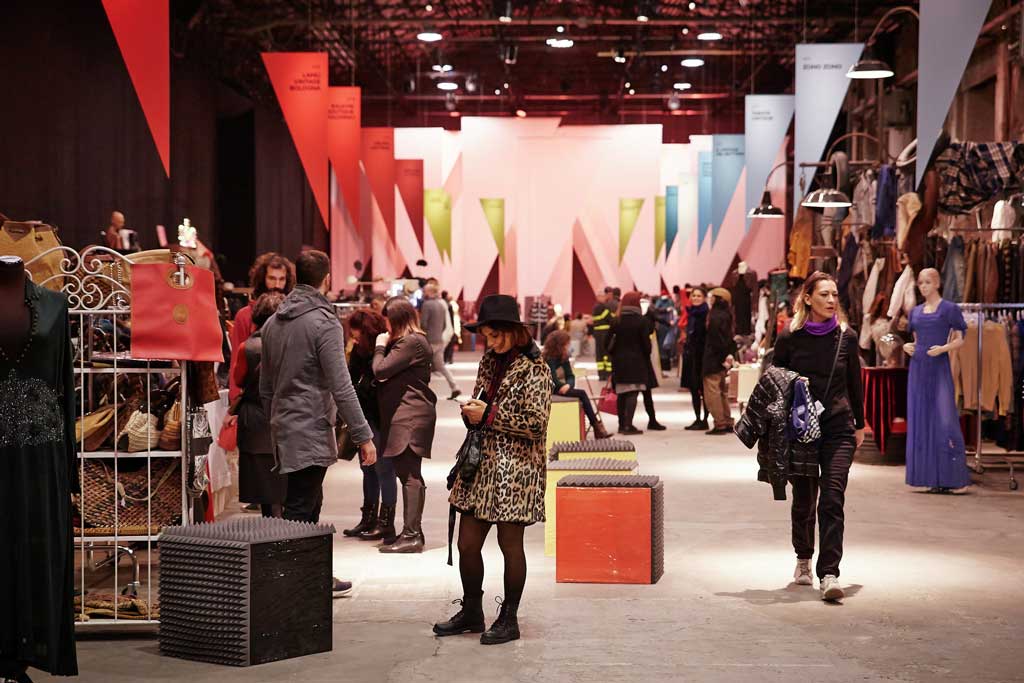 Exhibitors
A.N.G.E.L.O.
AGENDA VINTAGE
ALOE&WOLF.VINTAGE
ALT MEANS OLD
ANNA MARIA E MARGHERITA VINTAGE
BALEVIN BOUTIQUE - BOLOGNA
CASAVIVA ANTIQUARIATO & VINTAGE
CASTA DIVA VINTAGE TREVISO
DELICACIES
DOGANA VINTAGE
DONKEY SWING
DOROTEA VINTAGE FIRENZE
ECLATER & TELMA VINTAGE
EMAK-BAKIA'
FERMATA D'AUTOBUS SOLO VINTAGE
G1OSH VINTAGE NAPOLI
GAUDELI'S VINTAGE-FIRENZE
GIGOLE' - ABBIGLIAMENTO & DIAVOLERIE VARIE - DAL 1947
GIRATEMPO VINTAGE
GVINTAGE
JEWELS OF FANTASY NYC
JULESEJIM INSPIRATION VINTAGE
KIRKE' VINTAGE
LA SPILLA ALLEGRA
LABORART E INSOLITA - SPAZIO VINTAGE
LAMU' VINTAGE - BOLOGNA
LAURA VINTAGE
MAGNIFICA PREDA the vintage way
MAI VISTO ABITI D'EPOCA
MANIA VINTAGE MILANO - FORTE DEI MARMI
MERCATINO di NINNI SECOND-HAND
MERCURIO VINTAGE
MILLESIME' SRL
MOMO VINTAGE FIRENZE
NENTON VINTAGE
OFFICINE LI VOLSI
OLD & ANCIENT DI ELENA ORSOLINI
ONLY ONE BRESCIA
POST POST RAVENNA
PUNTI DI VISTA
PX MILITARY VINTAGE
RE-CHIC BOUTIQUE/GOCCE DI MEMORIA
RECOLLECTION by ALBRICI
SHABBY CHIC VINTAGE
SHOUT VINTAGE
SIN CONTROL VINTAGE
SP VINTAGE
STONDO FIRENZE
STREET DOING VINTAGE COUTURE FIRENZE
TARTAN VINTAGE
TERROSI VERONICA VINTAGE
VENTURINO ARCHIVI
VINTAGEART BOLOGNA
VIOLA VINTAGE MARCIANA MARINA
SEZIONE REMAKE
Remake is the special section dedicated to collections by companies specializing in customized vintage. Buyers and visitors can directly purchase the garments on display, each one of which has been transformed and restored to "new life" using innovative techniques and methods.
AMBASCERIA CULT
BUCATO FRESCHEZZA HAND MADE
DEJAVU E BLOODY EDITH
MAIKO
MAISON 39 (& T-CHEM arthings)
MONICA GRAY – PONTREMOLI
STRANE FOBIE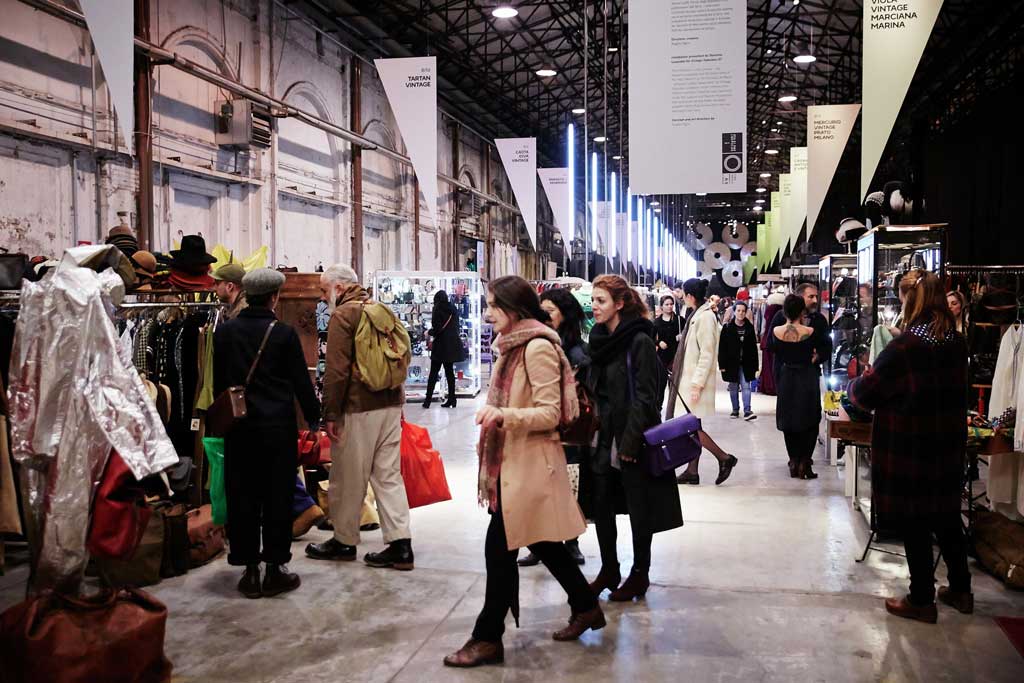 Programma
Every day
Fair-market featuring vintage clothing and miscellanea and remakes
"DISCO PARADE" exhibition
Wednesday 25 and Thursday 26 January
DJ set with show by the "Le Giuladies"" - the Tuballoswing dancers
Inspired by the Chorus Girls of the Swing Era, relive the performances of Italian and international TV show girls like Carmen Russo, Lorella Cuccarini, Raffaella Carrà, Heather Parisi, and the girls from the famous Drive In program.
Friday 27 January
DJ set by Andrea Sicuro. Class of 1969, an architect and interior designer in everyday life, music is Andrea's real passion which he cultivates through research that knows no boundaries in terms of genre, period or style.
Saturday 28 January
DJ set created by 'I love disco', the leading Florentine brand in the Vintage musical events sector featuring a selection dedicated to the '70s/'80s. A regular musical tribute rigorously mixed with vinyl 45s and original mixed disks from the period .
Sunday 29 January 2017
An imaginary vinyl journey by PISEDJCLUB moving from the funky late'70s to early '80s, the Studio 54 New York period, arriving at the house genre from Chicago, Detroit; all strictly club sound music.
VINTAGE SELECTION 29
25-29 January 2017
10:00 a.m. - 9:00 p.m.
Admission 5,00 euro (Reduced price coupon)
Stazione Leopolda
Viale F.lli Rosselli, 5 – Florence
Tel. +39/055-212622
Facebook